MARINA COVE APARTMENTS l 3480 Granada Ave l Santa Clara, CA 95051
Project Details:
Marina Cove  is a 292 unit, 2 story, slab on grade apartment project.
Scope of Work:
redesign and install new water system to accommodate individual washer / dryers. Included:  electrical for washers; gas for dryers; venting, sewer connections.   We modified the patio storage room from a single door to a double door laundry center with room for laundry supplies and a place to hang clothes.
The major challenge on this project was routing new washer waste as each building was surrounded by water in manmade creeks.
Marina Cove - Water System Re-pipe & Design / Engr / Build NEW Laundry Centers
Patio storage room (single door) BEFORE framing modifications for Laundry Center.
Marina Cove
Laundry Center - In Progress
We dug a trench around the perimeter of each building to run the new washer waste line connection to existing main sewer system. This minimized the construction impact to each resident.
We modified the storage area by adding double doors to create a laundry center. This allowed the entire space to be utilized and created more value for our client.
MARINA COVE - COMPLETED LAUNDRY CENTER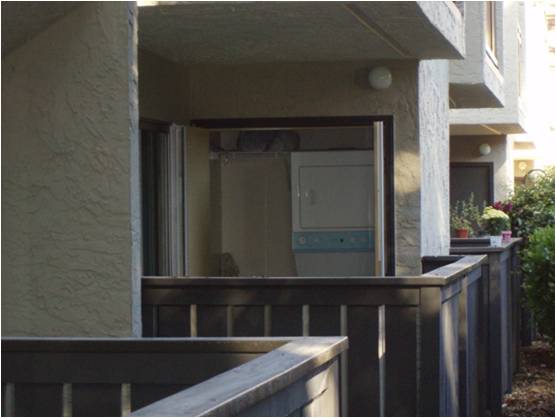 FINISHED EXTERIOR
WCOMPLETED Laundry Center Clothes bar & storage shelves on Left of W/D.